HVAC Company Sterling, VA
Technicom is one of the leading HVAC companies in Sterling, VA. For nearly twenty years, we've been a premier HVAC-R service provider in the commercial, food service, and residential sectors. Founded in 2003 by engineer Sean Zarafshar, we are based in Northern Virginia to conveniently serve the DMV area. Because of our transparency and dedication to high-quality services, we only work with industry leading brands and deliver the highest level of customer services to your complete satisfaction.
Our mission is to deliver fast, cutting-edge and eco-friendly heating, ventilation, cooling, and refrigeration solutions with unmatched integrity and customer service that exceeds industry standards.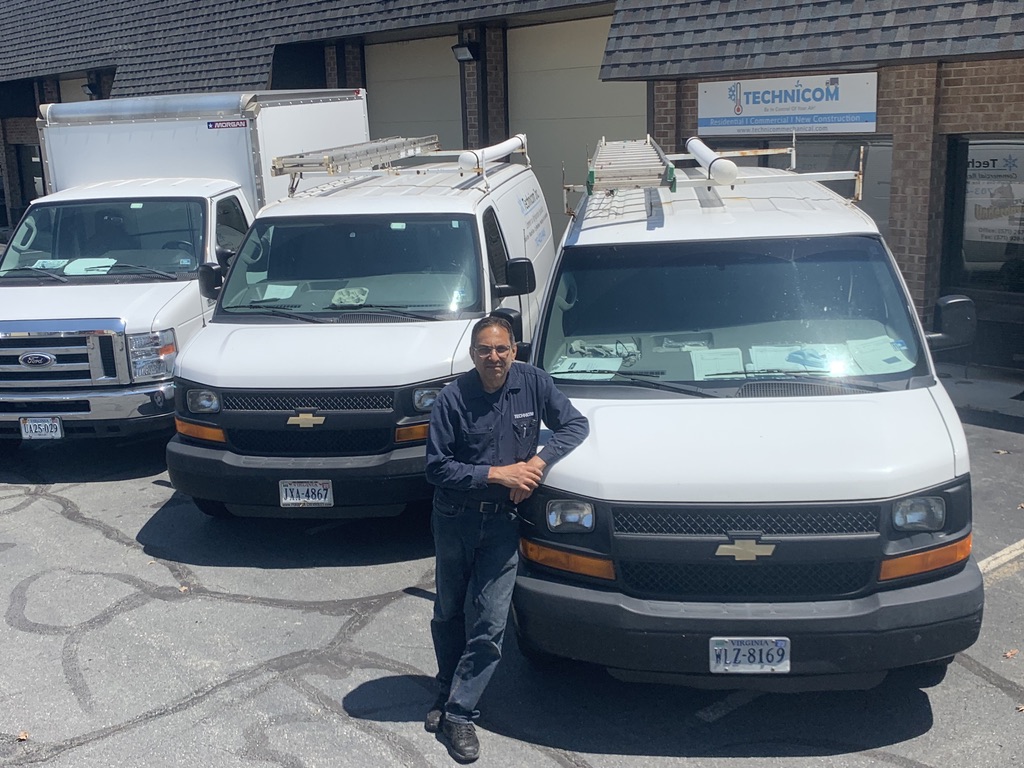 Your Reliable Local HVAC Company
At Technicom, our ultimate goal is the comfort of our customers 24/7. As a leading HVAC contractor in our market, we take pride in providing exceptional services to our community. Here are a few ways Technicom has the competitive edge over its local competitors:
In the growing market of HVAC-R service providers, we understand the need for consistent and reliable service. Our company is fully licensed and insured which gives our customers the confidence that the job will be done right the first time.
2) Trained & Certified Team
We are extremely proud of our trained, certified, and experienced team of HVAC-R specialists. Every team member has undergone a criminal background check, drug screening, and completed hours of training to stay up-to-date with modern HVAC-R technologies and techniques. Our technicians hold state issued Journeyman or Master contractor licenses, as well as EPA (Environmental Protection Agency) certifications.
3) Project Management & Workmanship Warranty
As a full-service HVAC-R contractor, customer satisfaction is the core of our culture. We offer complete project management services to maintain the highest standards while performing every job, no matter how small or large. To give extra confidence in our work, we provide a 1-year workmanship and new installation warranty.
4) Preventive Maintenance Plans
Preventive maintenance holds a crucial importance in accurate forecasting of asset depreciation, averting costly repairs, and prolonging the life of your HVAC-R equipment. Our team will develop a robust and comprehensive plan for preventive maintenance, specific to each property, which will ultimately lower the chances of a break-down and save the customer lots of time and money.
5) Custom Designs & Solutions
The quick advancement in mechanical technology not only reduces the stress of the end-user, but also reduces carbon emissions in the environment. We make the most of modern innovation by using our state-of-the-art analysis methodology to determine the most suitable design of HVAC-R systems for each individual application. We then work with reliable suppliers to deliver those innovations to our customers.
Need a second opinion? We've got you covered! With so many brands of HVAC-R equipment out there today, we understand the difficulty of picking the right system. Let us guide you through the decision-making process. With nearly twenty (20) years of industry experience, we will help you select the right HVAC-R system that not only performs impeccably, but can also save you money through energy-efficient operations.